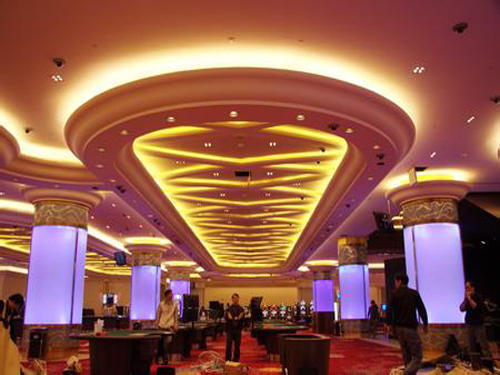 In recent years, with the improvement of living standards and aesthetic vision, the public has become increasingly demanding for the overall collocation effect of lighting. In order to facilitate consumers to make accurate purchasing judgments, lighting companies have upgraded their stores into real-life experiences and gradually extended their product lines to the home, accessories, and softwear industries. They hope to help consumers through the "home integration" sales model. The choice of a product with a uniform style will lead to an increase in sales.

Real-life experience room allows you to be there

In November, many communal friends who rushed to move their new homes at the end of the year began to enter the stage of soft loading in the later stage of renovation. Driven by this, the popularity of lighting and cloth shops in Quanzhou recently increased.

Unlike the simple display of suspended lighting products in the past and the sales personnel's recommended practice, more lighting showrooms now use the real-life experience sales model. Businesses like Desheng Home Plaza and Xinwenxing Lighting Co., Ltd. have integrated furniture, drapery, and lamps in different areas such as the living room, bedroom, and restaurant to integrate lighting, furniture, and jewelry, so that customers can feel the lighting. A variety of ways of expression, as well as the overall effect of lighting and home improvement.

Ms. Chen, a lighting shop owner of the Huazhou home improvement market, said that when consumers buy lamps, it is often difficult to visualize lighting effects. Through the actual display of different spaces, not only the lighting and furniture decoration effects can be displayed, but also the key. It is to allow customers to have an intuitive feeling on the light source, which is more likely to produce a desire to buy, and more accurate to choose.

Personalize the "light atmosphere"

With the increasing demand for personalized products from consumers, some lighting companies have also launched "customized customization" services in a timely manner that are popular with consumers.

Mr. Chen, the general agent of Quanzhou Optronics Lighting, said that in lighting choices, many consumers often hope that the lighting used is unique and unique. The lighting "custom" service can select different lightings according to different environments and users, use different light source characteristics, create a contagious space atmosphere with appropriate brightness, and provide consumers with specialized customized services.

One-stop shopping for home products

This year, some lighting brands began to gradually extend the product line to the furniture, jewelry and other industries. The trend of lighting brands' overall collocation, independent design, and independent production of home products has become increasingly apparent.

Like the well-known lighting brand - Qilang Lighting's high-end brand OOLLONA in its flagship store not only display lamps, but also with furniture and soft products. These products are designed by the brand with the characteristics of lamps and lanterns, with a more coordinated and more integrated. This will also help create a new model of home furnishing in the lighting industry.

According to industry insiders, the current trend in the lighting industry is the brand's advancement from mid-range to high-end design, and the integration of lighting and furniture integration is becoming more and more evident. Many international furniture brands have begun to integrate into the lighting fixtures. At the same time, Chinese lighting brands have begun to attach importance to product design, seeking to cooperate with international artists, and combining artists' home products with lighting products, gradually becoming a trend.

In the past, consumers had separate choices for lighting and furniture, which could easily lead to mismatched styles. For example, European-style crystal lamps were used with American furniture, or the size of lighting was not matched with the specifications of the room. Now, the lighting brand has launched ancillary products that allow many consumers to move furniture, soft-packing, and other accessories together when they purchase lighting. This not only satisfies consumer demand, but also enhances the three-dimensional impression of the lighting brand.
our products include 1seiries, 3series, 5series and 8series of Aluminium Sheet and aluminium checkered plate The alloys include a1050 a1060 a1100 a3003 a3004 a3105 a5005 a5052 a5754 a5083 a6061 and a8011. The thickness of the aluminium sheets are from 0.2mm to 200mm.The width are from 500mm to 2200mm.The length are from 500mm to 9000mm.We can also produce the aluminium sheets according to customers' verious special demands.The aluminium sheets are used to lighting ,solar reflective film,building exterior, interior dectoration,furniture, elevators,signage, automotive interior and exterior decoration, household appliances and so on.The checkered plates are used in air-condition, car, platform, pipeline, screen framework,the table leg,trim strip,handles and so on.
Aluminium Sheet
Aluminum Sheet 5052,Aluminum Sheet 1100,Aluminum Roofing Sheet,Aluminium Sheet In Coil
Henan Everwin Trade Co., Ltd. , https://www.ewaluminium.com